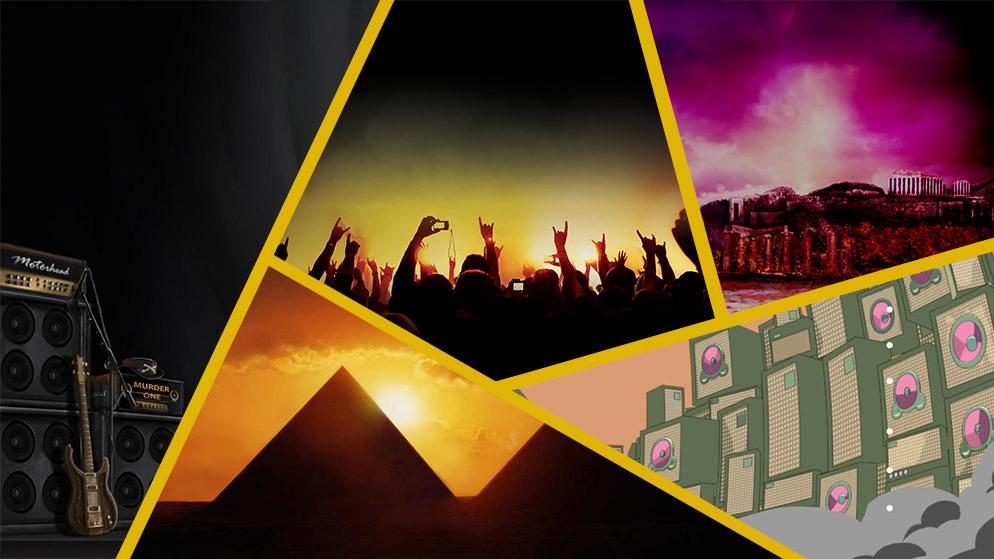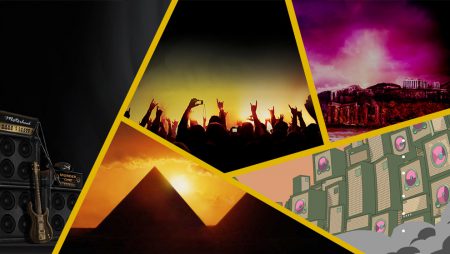 There are hundreds of slot games out there, and when you're looking for your new favourite, it can be difficult to decide where to start. Well, we're here to help.
A familiar face is always welcoming, which is why celebrity slots are doing so well.
From top-class musicians to Ancient Gods and Goddesses, there is scope for all kinds of famous faces slot games to play, and we have rounded up our favourite five to get you started.
Guns N Roses
Sweet Child O' Mine, let us take you down to the Paradise City with this exciting, top-quality video slot from NetEnt. You can choose from five of the band's songs to soundtrack your game, set on a festival stage with bopping fans in the crowd.
The visuals are fantastic, but there is more to the game than that. The features are, of course, themed on the band's music. You have the Appetite for Destruction Wild which has the album cover as the icon, for starters, and a Crowd-Pleaser Bonus Game where you can pick and click to reveal your coin winnings.
With legendary spins, multipliers, free spins and a bonus wheel, Guns N Roses is one of the top celebrity slots, packed out with features to keep your gameplay exciting!
Whether you're a number one fan or fancy some rock & roll spins, this is an incredible video production which keeps on giving.
Rock out at Jackpot Jones, Prospect Hall, O'Reels or Temple Slots.
RTP: 96.98%
Motorhead
In keeping with the rocking theme, how's about some Motorhead hard rock to get your spins off to a strong start? Opening up with live footage of the band playing, this is a famous faces slot where you can catch a glimmer of the real deal before you play.
We have some unusual reels in the Motorhead slot, which makes it all the more exciting. With 76 paylines to play with, we can't complain. Step onto the speaker-clad stage and take the lead in this superb slot.
Want to feel like you're right there at the show? Switch on Rock Mode, and you'll have some Motorhead classics blasting from the game.
You wanted celebrity slots, so you've got Lemmy on the reels, who is the highest-value symbol. Watch out for his naughty language when you win, though! If you're lucky, the celebratory riff will drown him out!
As well as the usual free spins, you can unlock Mystery Reels and the Bomber feature which sends the sirens whirring, returning to the game with new mystery symbols. This is a famous faces slot not to be missed.
Rock & Roll.
Play at Temple Slots, Prospect Hall and O'Reels.
RTP: 96.98%
Jimi Hendrix
Surely he needs no introduction. It's Jimi Hendrix, and he's giving us classic Woodstock vibes with the colours and theme of this game. Hendrix is another of the famous faces slot games from NetEnt, who have superimposed a realistic face on a cartoon body, but it works.
We've got some Hendrix playing from the game as we spin, and it is fantastic. It takes a moment to get used to the cartoon version of him, but the rest of the symbols are simple yet fitting for the theme.
Set upon a mountainous backdrop, with some sand-buried guitars and drums, the reels have a distinct hippy look, which is spot on.
But what about the bonuses, we hear you say. From features with names from Purple Haze to Crosstown Traffic and Little Wing, NetEnt has dropped in plenty of references to his work throughout the game. These touches are an additional extra if you're a Hendrix fan.
You've got three different types of free spins to play for, and with the Pick & Click game, you can either win coins or even more free spins! There are lots of opportunities to maximise free spins with Jimi Hendrix, and having his music soundtrack you through the game is even better.
Play at Prospect Hall, Temple Slots, and O'Reels.
RTP: 96.9%
Cleopatra Plus
Arguably just as famous, but from mythology rather than music, is Cleopatra Plus. Celebrity slots come in all kinds of formats, and if you want to walk like an Egyptian, give this one from IGT a spin.
Surprisingly, this is a sequel which we enjoy more than the original, which can be quite rare. You'll soon see why.
We're familiar with a desire to gain followers, and it turns out Cleopatra is the same. In Cleopatra Plus, you can gain followers to level up and boost your prize payouts! Any pharaohs which land on the reels will automatically join your following, and there are eight levels of deity to climb so here's hoping they come flocking!
You've got a bonus map which you can place your followers on, and each landmark has different awards, up to 50 free spins, a 5x multiplier among others.
It's not all about popularity, though. As ever, you've got Cleopatra's free spins and Stacked Double Wilds just waiting to be triggered with some successful landings.
Embark on the quest for status and enjoy the exotic backing track with Cleopatra Plus, a superb addition to the famous faces slot collection!
Spin at Kerching, Betfred Casino or Jackpot Jones.
RTP: 96.5%
Medusa
From Egyptian Queen to Greek snake-haired monsters, here is Medusa. She is an unforgettable creature which classifies her as one of our top famous faces slot games. Keeping it retro, this game has got a vintage feel to it with the design of the reels, but the quality of the graphics is still pretty good.
Look at her the wrong way, and she would usually turn you to stone, but in this slot, you can be tactical and instead make her trigger the Turned to Stone Re-Spins.
Golden reels with winged sandals, Pegasus, a snake and gold coins adorn the reels among other goodies. Medusa is the Wild, and while she looks harmless usually if she is part of a win, you will see her become the green-eyed monster.
There are plenty of bonus features in the Medusa slot which can soften the fear of being turned to stone. While it has a mysterious and powerful air to it, we can sense a seductive eye from the protagonist. Don't let her fool you!
Play the Megaways version at Betfred Casino or Jackpot Jones.
RTP: 95.4%
Celebrity Slots with Generous Prizes
Each of these top games has been hand-picked firstly for their famous faces slot status, but equally as important are the bonus features. All five of them are jam-packed with unique features and quirks to keep your games exciting while you enjoy a spin with some familiar faces.
Want to find more inspiration? Why not take a peek at our favourite game mash-ups, which are sure to keep you on your toes!