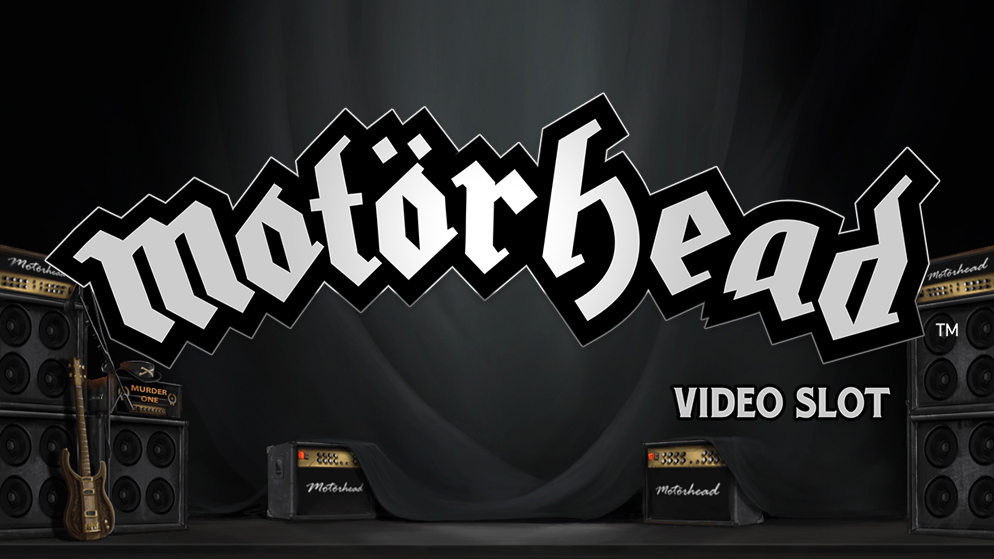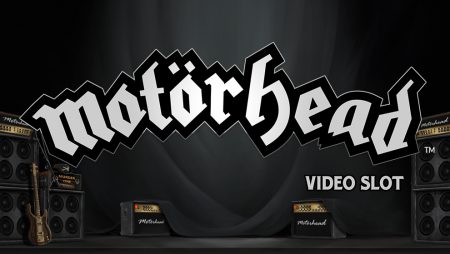 How Can I Play Motorhead Slots?
The Motorhead online slot game has a rock and roll music theme, developed by NetEnt. There are 5 reels of different sizes and 76 fixed paylines, with bets costing as little as £0.20. You can unlock free spins and mystery reels if you are lucky enough. The game is focused around the music of legendary band Motorhead. There are Wilds, free spins and a very special feature waiting for you in this special casino game.
If you're a fan of hard rock, and particularly Motorhead, then you may have met your slot game match here in this game from NetEnt. The intro to the Motorhead slots features live footage of the band playing Ace of Spades, and there's a function where you can listen to their songs while you play. Read through our Motorhead slot review to see what you're in for.
With a slightly different reel layout to what we're used to, the first two reels have 3 rows on them, and reels three and four have 4 rows. The fifth reel, which is the furthest right, has 5 rows.
We can think of this from two perspectives: if it was originally a 5×3 reel then we've got more than we bargained for. If, however, it could have been a 5×5 reel, we've been short-changed. It's a cool and unusual layout, whichever way you look at it. There are 76 paylines to play against, so we can't complain.
Hard Rocking Graphics
The game opens with real footage, and then take us to the stage which is set up with big speakers, guitars and a drum kit. This is where the action takes place. Even with just a few spins, it's clear that they've put the effort in to make these graphics seem realistic. From the images of the band members to each of the symbols, they're clean and in the same style as the band. The recreation of their frightening logo also looks just like the original.
Warm up to Play
It costs 20 coins to play across all paylines, so the minimum bet is £0.20. Your bet can be increased by adjusting the coin value to the bottom right of play, or the bet level to the bottom left. The actual value of your bet will be shown below the circular spin button. You'll also see your cash amount and winnings on that line, too.
On the very far bottom right, there is a box called 'Music'. Click inside that box to activate Rock Mode, and you'll be sound-tracked by some Motorhead songs. If you've got the tunes on the go and would like to rock out and enjoy them, click the auto play button and choose your number of spins.
Wins to rock out to
Sure, we know how to play, but what we really want to know is how to win. You have to match at least 3 of the same icons to win on a payline, and different icons have different values.
In standard gameplay, frontman Lemmy is the highest value symbol, paying out up to 150x your bet level for a five-of-a-kind match. The star symbol is the second highest, paying between 5 and 50 times your bet depending on how many you match. Other symbols are a bell, a lucky number 7, a horseshoe, some cherries, and a four-leaf clover.
The Wild in this game is the Ace of Spades symbol, which can substitute for all of the above icons.
You might want to watch out for Lemmy's language when you land a winning line! He can spout some naughty words, but they are often drowned out by the celebratory rock and roll mini-jam. The bigger the win, the bigger the jam!
Are there any special features?
It wouldn't be a hard rock game without any rock & roll bonuses. And they're generous, too, with lots of big wins up for grabs.
Free Spins
The Scatter symbol is a scary-looking golden version of the Motorhead logo, otherwise known as the Snaggletooth. If you're still unsure what it looks like, it's a demonic skull with horns and vicious teeth, with SCATTER written around it. Land 3 of these across reels 3, 4 and 5 to activate 10 free spins.
During the free spins game, the Mystery Reels consist of both Mystery symbols and Wild symbols. This may be the easiest section to make your biggest wins!
Mystery Reels
On every single spin, whether in standard play or bonus rounds, you'll see Mystery Reels. One or more reels per spin can be Mystery Reels, which means that when they land, they are covered in Golden mystery snaggletooth symbols. Once they land, they will unveil a stacked reel of the same symbol. With this happening during every spin, you're sure to see the rewards of it before long with a few lucky landings.
Bomber Feature
In standard play, this feature can randomly be activated before a spin. You'll see the screen go black with spotlights and sirens flashing, before bringing you back into play. When you return to play, a cluster of mystery symbols will show up which reveal symbols in the same way as Mystery Reels.
The Verdict
The perfect match for the metalheads and rockers alike, if you love Motorhead, you'll love this. The musical accompaniment is really good if that's what you're into. The first win can be a shock when the music plays, so brace yourself. You can, of course, mute the sound and turn off Rock Mode to enjoy some peaceful spins and admire the visuals. It seems like a generous and modern game.
Motorhead FAQ
Where can I play?
Rock out at Temple Slots or Prospect Hall.
What is the RTP?
The Return to Player (RTP) value of Motorhead slots is 96.98%, which is pretty good. The low variance of the game means that you're more likely to win smaller amounts often, so you might be reaping the rewards of your bets sooner than you think.
Are there any similar games?
If you like the music-themed games, then you might enjoy the rock and roll vibes and great visuals from Jimi Hendrix or Guns N' Roses, both from NetEnt.