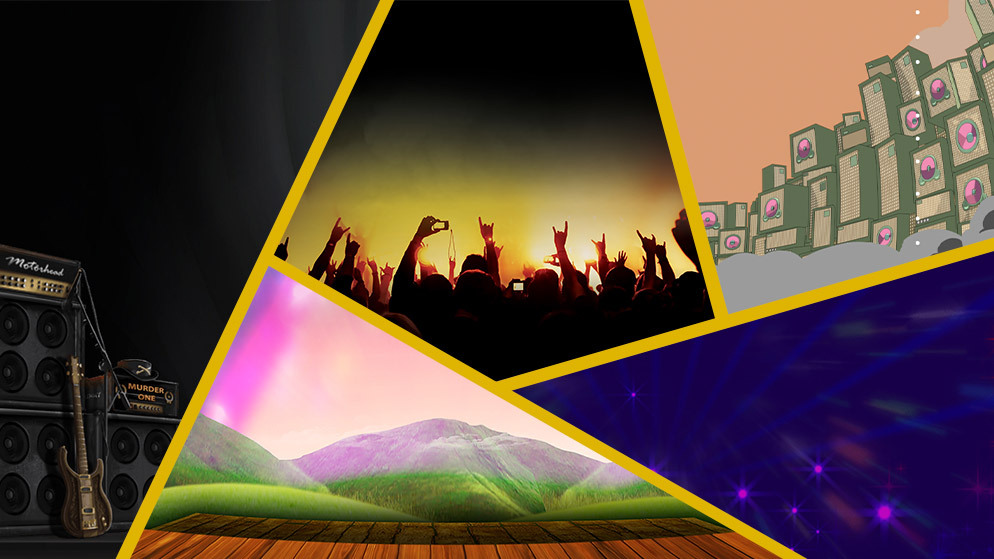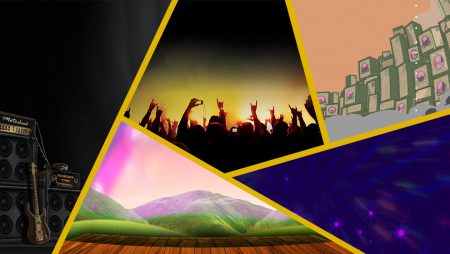 Is there a better combination than some good music to accompany some brilliant slots? Nope? Didn't think so. This is especially true when the music is top quality, and some of the songs you may even know, so you can have a singalong, too.
Music-themed slot games are becoming increasingly popular as the game technology gets consistently better.
Want to see what our top picks are? Let's go!
Guns N' Roses
RTP: 96.98%
Welcome to the Jungle! It's fun and games for sure. Enjoy live footage of the legendary hard rock stars as the game gets started.
Step up to the festival stage where the lights shine upon the reels and a bouncing audience.
You'll be knock, knock, knockin' on heaven's door when you spot Axl Rose, Slash and Duff McKagan upon the reels. They're the most valuable symbols up there, obviously. It wouldn't be a Guns N' Roses slot without them.
In keeping with the criteria of music slots, this one is bursting at the seams with concert-themed bonuses. You've got a Wild in the form of the Appetite for Destruction album cover, as well a solo multiplier, encore free spins and legend spins just waiting to be triggered! The Crowd-Pleaser bonus game is exactly that. Pick and click your way to prizes, Sweet Child O' Mine.
Head down to the Paradise City where the reels are sweet and the prizes are pretty.
This is a slot which is not to be missed.
Plus, there's only so many song references we can include to encourage you to take a look!
You can play this fantastic music slot at Temple Slots, Prospect Hall, Jackpot Jones and O'Reels.
Jimi Hendrix
RTP: 96.9%
Surely, this guy needs no introduction. This dreamy production is one of our favourite music slots, with Woodstock vibes and a hippy design. Let's acknowledge Hendrix's head morphed on to the cartoon version of his body and move onto the good bits. You get used to it.
You certainly get the Jimi Hendrix Experience in this slot. Set on a mountainous background, there is flower power galore to keep those vibes rolling throughout your game. From peace signs to hearts, we're feeling the love with this music-themed slot.
Expect to unleash some classic Hendrix songs onto the game. We've got Crosstown Traffic, Little Wing and Purple Haze free spins, each with their own little quirk.
Trigger the Pick & Click feature to see which of the free spins, or coin wins, Jimi treats you to.
Spin with Hendrix at Prospect Hall, Temple Slots and O'Reels.
Motorhead
RTP: 96.98%
Prepare for some headbanging in this heavy rock music-themed slot which opens with live footage of the band, Motorhead. You could get more than just the Ace of Spades with some lucky landings on these reels which are set up on onstage.
The reels are slightly different from what you might be used to, with differing numbers of symbols on different ones. It makes for exciting gameplay as there are 76 paylines to play with.
If you are feeling extra rock & roll, you can switch on 'Rock Mode' to have your game soundtracked by some of the band's top hits.
You may well be familiar with the Motorhead logo, the Snaggletooth. If not, there is a golden symbol on the reels which is a scary-looking skull with horns and teeth. Frightening as it is, it can lead the way to some golden bonus features.
You've got the Mystery Reels, Bomber features and of course, free spins to keep you rocking throughout the game.
Take Motorhead for a spin at O'Reels, Prospect Hall and Temple Slots
Wheel of Fortune On Tour
RTP: 96.6%
Let's switch things up here. We've left the stage, and we're on the tour bus. Touring the wonderful United States and passing some famous landmarks as we go.
You're at the wheel of the tour bus and combined with the famous Wheel of Fortune game show, this is one adventure not to be missed.
Your gas meter at the bottom left of the windscreen is the gateway to your tour destinations. The more non-triggering bonus symbols you land, the fuller your meter gets. It can be filled multiple times and dictates how far you can move on the next part of your tour.
There is also an On Tour bonus which can be triggered and leads you to the Wheel of Fortune. There are six levels of bonuses which you can unlock to increase the potential opportunities for you to win some prizes! The Wheel of Fortune On Tour game is a vibrant music-themed slot with a different twist, making it a great one to change things up with.
And remember, what happens on tour, stays on tour.
Play it at Betfred Casino.
Shamrockers Eire to Rock
RTP: 94.2%
This is a music slot with an Irish twist. We've got a stylish Leprechaun frontman of a band which specialises in playing rock & roll versions of Irish jigs.
Whoever decided to bring us an Irish and music slots combo, we salute you. It is brilliant.
The concert is set upon a rainbow-coloured sky, and the reels have a Celtic pattern on them, staying true to the game's roots! The music is pretty comical but it's good enough to get you smiling while you spin.
Bonuses include an encore feature and dynamic stacks which feature whole reels of band members. Your Wild symbol is obviously a Shamrock, and your admission ticket is the bonus symbol.
Shamrockers Eire to Rock is bound to be one of your favourite music slots in no time. Maybe there will be some gold at the bottom of that rainbow-coloured sky.
Play Shamrockers at Betfred Casino.
A Musical Extravaganza
From NetEnt to IGT, these music-themed slots are our favourite picks of what's out there at the moment, and we're sure you'll have a blast playing them.
If you're not humming the words or a tune by the end, we'd be surprised!
Fancy seeing what else we've picked out as top-notch? Take a look at these Back in Time slots and some Land-Based Favourites you can play online.