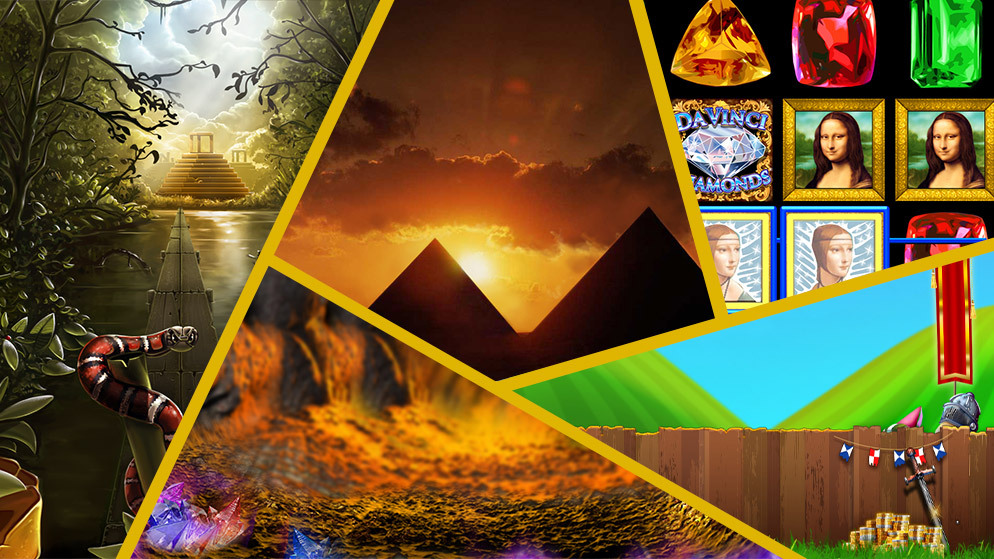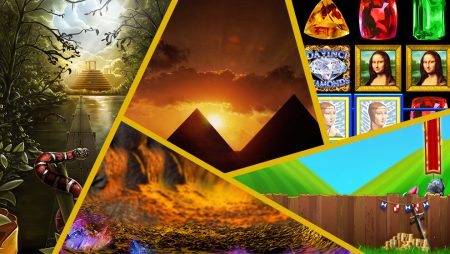 We have picked out five slot games which have one common theme. Whether they existed in real life or not, they share the commonality that they're some familiar faces from bygone eras.
You've got Throwback Thursdays and Flashback Fridays, why not have a go at some Retro Reels?
Of course, there are heaps of mythology-inspired history themed slots around, but to get you started here are some of the favourites, and the classics.
Merlin's Millions
RTP: 95%
Perhaps regarded as the original wizard who has stood the test of time, Merlin was the wizard accomplice of King Arthur. If magic leaves you spellbound, then you will have a blast casting your spells upon the reels. All of the essential items that come with a wizarding magical masterclass have high value on the reels. From your spell book to your bejewelled vintage wand, you will be awarded for landing more of them on the reels.
What would Merlin's Millions be without the legend himself taking part?
A Wizard Wild can substitute for any of the standard symbols in play to assist you in conjuring up some winning paylines. You will also see some very special Orbs which could grant you every slot-players wish of free spins if you land them in the right place.
What's more is that your game is sound-tracked by that classic magical, upbeat twinkling tune which sound extremely exciting and inviting.
You may not be able to pull a sword out of a stone, but you may well be able to unlock some enchanting features.
Take the wizard for a spin at Betfred Casino.
Medieval Money
RTP: 93.45%
Now let's explore an entire era, summed up by some hilariously distorted characters, shall we?
Medieval Money is one of the funniest history themed slots in terms of the design, and every time we see it, it makes us smile. Light-hearted and colourful, we take a trip back to the Middle Ages to visit a Royal Family. We've got the King, Queen, Princess and a knight. The princess looks pretty normal, although the game's features hint that she might be locked away in the tower.
The King and the knight, however, are the owners of the largest protruding noses a slot game may have ever seen. It's the knight who cracks us up. Let's see if he can use his nose to rescue the princess.
You know what else makes us smile about this game? The prizes.
The Archery Picker bonus takes us to the turrets of the castle, and one of four bonus quests will be revealed. From jousting to a Dragon path and a Spell Picker with another wizard, it is all going on in this quest to defeat the dragon and save the princess.
Play at Betfred Casino.
Cleopatra Plus
RTP: 96.5%
We are crazy for Cleo in this game. A favourite in the back in time slot games category, Ancient Egypt often goes down a treat. There is an original Cleopatra slot, but Cleopatra Plus steps it up a notch, and so it makes the list over its predecessor.
Egyptian Gods and Goddesses take the reins in this game, and while it takes most features from the original version, there are lots of other elements.
Gaining more followers is something some of the social-media savvy among us may be familiar with. It seems like Cleopatra is familiar with it, too.
The more followers you gain, the greater the prizes become, and there are 8 levels to rise up through! In the bonus game, you can distribute your followers across different landmarks, each of which has a prize in to be revealed once you have chosen the landmark.
Double Wilds and the Pharaoh's free spins also await you in this Egyptian extravaganza.
Spin at Kerching, Betfred Casino and Jackpot Jones.
Da Vinci Diamonds
RTP: 94.93%
The famous artist and some of his paintings bring us another cracking history themed slot. Leonardo Da Vinci gave us the Mona Lisa, and some of the most beautiful paintings on history. If it weren't for him, we wouldn't have this classic and hugely popular slot.
What goes well with art? Diamonds, of course! A little sparkle would never go amiss, and it is plentiful in this colourful retro slot. You wanted back in time slot games, you've got a classic here. Set in an antique frame, we have the true vintage look with this game.
Da Vinci Diamonds takes things back to basics, which sometimes is all that we want. One special feature it has is tumbling reels. Instead of spinning, the reels will drop down symbols from the top. If you make a winning combo, the winning symbols will be removed and more symbols will tumble down into their position, meaning you may be able to bag a second win from one set of reels.
Fear not, you still have Wilds and free spins to help you on your way in this popular history themed slot game.
Play Da Vinci Diamonds at Jackpot Jones, Betfred Casino or Kerching.
Gonzo's Quest
RTP: 96%
Okay, so Gonzo himself may not be in all of the history books, but he is based on Gonzalo Pizarro, a Spanish explorer from the 16th Century. With that in mind, he qualifies for the back in time slot games category.
It's a good job he made the cut, because Gonzo's Quest is a brilliant slot. He is embarking on an adventure to the lost city of gold, El Dorado, and is inviting us to join him, too. This isn't any old slot, either. It is a video slot, so we've got all the action going on throughout the game.
Similar to Da Vinci Diamonds, Gonzo's Quest has an avalanche reel feature which works in the same way. If you land one winning line straight after another, the avalanche multiplier will increase. This can go up to 5x and can multiply the winnings heading towards the prize pot.
Play at Prospect Hall, Temple Slots, Kerching, O'Reels or Jackpot Jones.
Step Back in Time with Bonus Round
There you have it, our five picks of the top history-themed slots for you to have a look through. Why not choose your favourite and give it a whirl. Will your favourites be our favourites?
There's one way to find out.
Fancy broadening your slot horizons? Take a look at our favourite video slots or our top game mash-ups.