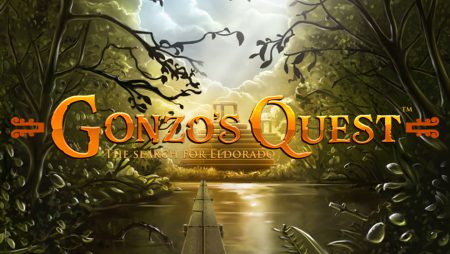 Gonzo's Quest is an adventure slot game, developed by NetEnt. There are 5 reels and 20 paylines in Gonzo's Quest, with best starting at just £0.20. You can unlock avalanches and multipliers with lucky landings. Gonzo if your mascot, guiding you throughout the game and celebrating each win with you. There are exciting Wilds features and bonuses on the quest for gold in this casino game.
Gonzo is a Spanish cartoon conquistador who, in the opening credits to the game, leaves behind his ship and shipmates to embark on his own adventure. He is on a mission to search for El Dorado, the lost city of gold. This is a wild and adventurous release from NetEnt with some unique features that can reward you in different ways to other standard slot games. Before you dive into the enchanted city to find your own gold, read our Gonzo's Quest slot review.
Gonzo's Graphics
The visuals in this game are almost cinematic, they're that detailed. To the right of the reels, there's a fountain which is permanently moving, and Gonzo is stood to the other side of your reels keeping an eye on the game.
The reels themselves feature square blocks with Mayan themed symbols on them. Although at first look, it's not clear what they are, they are well done, and made to look dated with cracks in. There is a lot of colour in this game, keeping it bright and interesting.
How to Play
The setup of most NetEnt games is very similar and easy to do. Looking at the controls beneath the reels on the golden rocky base, you will see all of the things you need to set up your game.
Beneath reel one is where you adjust the bet level. There are 20 paylines in the game which are always in play. The Level adjustment with the + and – symbols either side can add weight to the paylines. The higher the bet level, the more you would bet on each line.
Beneath reel five, you can adjust the coin value of your bet. The values range from 0.01 to 0.50, and in conjunction with your bet line, will create your actual bet amount. Beneath the big green spin button on reel three, you will see your total bet amount per spin.
Once you're happy with that number, get spinning! If you would prefer to sit back and enjoy the action, you can click the autospin button and select how many you wish to let play on their own.
Winning Spinning
To win prizes in Gonzo's Quest, you will need to match at least three of the Mayan stone symbols. Each of them are worth a different sized prize. The highest value of these symbols are those which feature gold in the designs.
Now, we're not sure about you, but we aren't experts in Mayan symbols, so we'll work with the colours. The most valuable is the blue patterned, happy-looking symbol with golden eyes. Matching 5 of these will award you a huge 2500 times your bet line. The green guy sticking out his tongue pays out a maximum of 100 times the bet line. The golden-toothed face on the golden background pays out 500 times your bet for a full five match, and the purple one pays up to 200 times.
The lower value icons are those which have no patterns on, just some strange looking faces and cracks. They can pay between three and one hundred times your bet, depending on how many you match in one spin.
The Wild symbol here is the golden question mark on the grey stone square and can substitute for all symbols in play, creating extra opportunities to win.
Are there any bonus features?
Avalanche Reels
Not so much a bonus, but a different feature to the typical slot. Gonzo's Quest has avalanche reels, rather than spinning ones. The difference here is that once you land a winning payline, the winning symbols will explode and disappear. Instead of a full re-spin, the missing slots will then be filled by new symbols falling from the top.
Avalanche Multiplier
The special thing about the avalanche reels is that when you land one winning line, and then another consecutively, the avalanche multiplier will increase. It will increase initially to 2x and can go up to 5x for 4 or more consecutive avalanches. This means you'll be maximizing your prize pot, just for your winning paylines.
Free Fall
The Free Fall symbol is the shiny golden symbol with a face sticking their tongue out. If you land three of these on a payline, consecutively from left to right, you will activate 10 Free Falls. This is the equivalent of ten free spins, and during these, the multipliers increase to 3x, 6x, 9x and 15x. You can also win extra free falls in this feature. The multipliers can certainly boost your returns! When you get a big win, Gonzo will hold out his hat to catch the coins.
Slot Verdict
This adventurous slot game has got a funky backing tune with pipes, drums and strings to guide you through to the lost city. When you win on multiple paylines to create an entire opening in the reels, you will see Gonzo stride through and off into the golden city towards the golden pyramid. You will then move onto a different backdrop with a different golden wonder behind it.
It's an energetic, enjoyable game and the unusual setting makes it more enticing to play. The bonus features look as though they could grant you some big wins if you hit the right payline at the right time.
Gonzo's Quest FAQ
Where can I play?
You can join Gonzo at Kerching, Temple Slots and Jackpot Jones.
What's the RTP?
Gonzo's Quest has a generous Return to Player (RTP) value of 96%. This means that on average, for every £100 you wager, you'll return £96. Being a medium variance slot game suggests that Gonzo will pay out decent amounts frequently, so you should be able to look forward to a good selection of prizes.
What else might I like?
If these style of video slot games are your new favourite, NetEnt has some similar style games which have different kinds of bonus features for you to try out. Why not have a look at Jumanji or Guns N Roses?