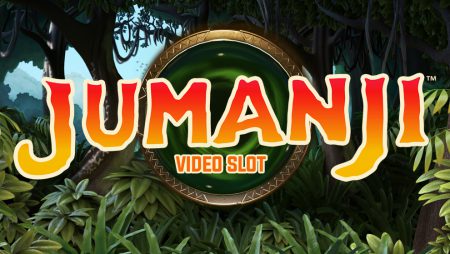 What is the Jumanji Online Slot?
Jumanji slots is an adventure slot inspired by the 1995 movie, developed by NetEnt. The game has 5 reels and 36 fixed paylines, with bets starting at £0.10. You can unlock the board game bonus with a few lucky landings. There are no mascots as such, but the game is completely themed around the movie and the game within it.
Jumanji is packed with Wilds and stampedes, and there are many other jungle-themed bonus features to find in this casino game.
If you were a fan of the original movie released over 20 years ago, NetEnt's Jumanji slots game will take you back. Fear not, you won't get sucked into your device. We can't guarantee you won't get drawn into the game, though.
The opening credits show the Jumanji board game box unopened, and then you will enter the open game where your reels are laid out.
The Visuals
Each corner of the background of gameplay features either some monkeys, a bookshelf, a cupboard or a staircase with a chandelier. The monkeys make slight movements, making it look realistic. The spookier surprise is when the lights flicker, and the chandelier swings. You can certainly sense something out of the ordinary through the graphics.
Look out for other convincingly realistic spooks throughout gameplay.
The branding from the original film has been carried across and is evident through some of the symbols on the reels. Overall, it looks good and eerily inviting.
How to Play Jumanji Slots
Before you embark on the mysterious mission, be sure to prepare.
The reels may look different to some other slot games. The reels have varying amounts of rows, with the largest amount in the middle reel. This could help to create more winners, with more positions for symbols in the middle. However, the sore losers among us could see it as less of an opportunity by not making all reels 5 symbols high. See how you play, and then decide your verdict!
You can set your bet amount by adjusting the bet level and coin value, which are bottom left and bottom right of the reels, respectively. The green circle beneath the middle reel is the spin button which you can hit once you're set up.
Prefer to take a step back away from the supernatural? You can press Autoplay and select the number of automatic spins you'd like to set off whilst you sit back and observe the chaos unfolding.
Winning in the Game
You're set up to play, so now you can play to win. As with most slots, you must match at least three of the standard gameplay symbols to win. The highest paying symbol in the main game is the lion, which can pay out up to 140 times your bet level for matching the maximum 5 of a kind across all of the reels.
The rhino symbol pays between 5x and 50x your bet level depending on how many you match across a payline. The crocodile and pelican symbols can award you with up to 30 or 25 times your bet for matching five of a kind, and a minimum of 3x for matching three.
As usual, the lower value symbols are the card values, J, Q, K, and A, paying between two and ten times your bet level depending on how many you match.
Are there any bonus features?
There are quite a lot for one game, to be honest. There are plenty of chances to maximise on the mysterious twists and turns within the Jumanji online slot.
Sticky Vines
The game takes the player into the jungle, so this one's a teaser of what you could have been up against if you'd entered the board game. Luckily for you, it works in your favour. This feature can activate when a winning combination is made. The vines will weave their way around the winning symbols and hold them in position for another spin.
You have an extra chance to extend your winning combinations or win on a different payline.
Monsoon Wilds
The Wild symbol is golden with the word WILD across it, and it can substitute for any of the standard symbols. Monsoon Wilds takes things a step further. One or two reels can become filled with Wilds, often after an animal jumps out and lands across the chosen reels. This means that all positions across the reels can substitute for any other symbols.
Lots of opportunities to win on some extra paylines!
Monkey Mayhem
Those darn monkeys. Always up to no good. But for us, they actually want to help! This feature is randomly activated during spins. Don't be alarmed if you spy some monkey hands playing around with your symbols. They will shuffle the symbols around and create a guaranteed win! Marvelous monkeys.
Wild Stampede
Now, this one sounds terrifying, but again it works in your favour. A stampede of rhinos will cross your reels, adding between 4 and 9 Wilds.
Once the reels land, all winning paylines will be paid out in line with your bet level.
Board Game Bonus
The Scatter symbol is the Jumanji game box. Land three of these to unlock the board game bonus. Choose your token and roll the dice. Each corner of the game has two spaces which will unlock that bonus if the token lands on them. There are different Free Spins features within this bonus round:
• Vines Free Spins
This one will get 10 free spins, and you can have multiple re-spins. This feature is like the Sticky Vines feature. The vines will hold down all Wilds which appear during all spins, in the hope of creating a board covered in as many Wilds as possible for maximum winnings.
• Monsoon Free Spins
This one gets you 7 free spins. Similar to Monsoon Wilds, the stacked Wilds will appear during each spin, but will move around different reels.
• Monkey Free Spins
Those cheeky monkeys will give you 6 free spins whilst they continue to shuffle your reels around for wins.
• Stampede Free Spins
Play away with 5 free spins as the Wild stampede hits your reels again.
• Mystery Feature
If your piece lands on the mystery feature space, you will activate it. You will see a carousel of free spins features, coin wins and extra dice rolls. Whichever it lands on, they are all yours for the bonus game.
The lowdown on the Jungle
The Jumanji slots jungle vibe is pretty cool, and the endless bonus features are great for all players. The fact that they're often randomly activated means that you don't just have to rely on a lucky spin.
Having the backing soundtrack of drums and tense jungle music keeps you on your toes while you play, and makes you feel immersed in the environment. The chirping and flapping of the birds make things feel real.
Great visuals and a good nostalgic trip back into the old game, this one gets a thumbs up.
Jumanji Slots FAQ
Where can I play?
Jumanji is a popular game, and you can play it at Temple Slots, Kerching, Jackpot Jones or Prospect Hall.
What is the RTP?
The Return to Player (RTP) value of this game is 96.33%. The game is a low variance one which means you're more likely to win smaller prizes more often, than having to play for a long time just to get one higher amount.
What else might I like?
If you like the branded games which give you a taste of something else you're into, you could rock out with Motorhead or get into the groove with Jimi Hendrix.