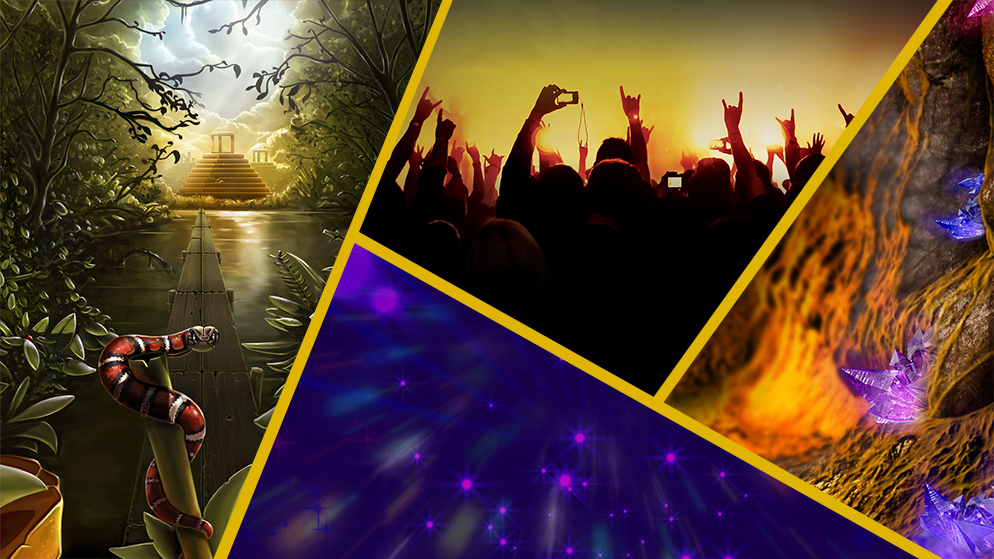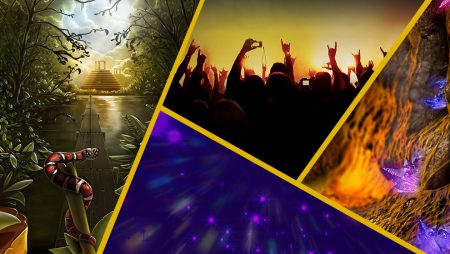 A question we are asked many times over. So we have hand-picked our favourites and compiled the top video slots just for you. Find out about the best games out that have become fast favourites since the first spin.
From banging bonus features to cinematic design, these are our top picks of the greatest in video slots right now.
Gonzo's Quest
First up, we think Gonzo's Quest deserves recognition as one of the best video slots to ever exist. Who wouldn't want to get involved in a quest to find the lost golden city of El Dorado? Gonzo is an explorer who has abandoned his crew and decided to go solo; this is where you step in.
With five reels, 20 paylines, avalanche reels, multipliers and a cute-looking free fall symbol, lots is going on to keep you entertained in this release from NetEnt.
Gonzo's Quest is a Mayan-themed slot, with some comical symbols and a funky backing track made up of drums, strings and pipes. When you create an opening in the reels, you will get a glimpse of the enchanting golden city that Gonzo is adventuring towards.
The feature which captures us the most is not even the game reel itself; it's the moving features around the game. There is a fountain running to one side, and Gonzo stood on the other, checking his map and watching as the game unfolds. Two big thumbs up for our beloved conquistador.
Play at Kerching, Prospect Hall, Temple Slots or Jackpot Jones.
RTP: 96%
Conan
Barbarian by name, but how does the Conan slot weigh up? He's featured in films, books, video games and comics. Now he's arrived at NetEnt.
If you're looking for multiple features, then this could be a strong contender for your next favourite NetEnt video slot. The quality of this slot is pretty much cinematic.
The reels contain hooks, swords, helmets and famous characters, with Conan obviously holding the most value.
We have been spoilt with multiple bonus features, such as tower wilds, mystery symbols, battle wilds, and linked reels, to name a few. We'd be here all day explaining them, so why don't you take a look for yourself.
Play Conan at O'Reels, Temple Slots, Kerching, Jackpot Jones or Prospect Hall.
RTP: 96.01%
Jumanji
Another favourite video slot from our friends at NetEnt is the board-game-film-turned-slot, Jumanji. There are five reels laid out inside the path of the board game, and it's up to you to roll the dice and see how wild you can make the game.
Expect mischievous monkeys and a stampede of rhinos across the reels at any point, living up to the name of the Wild feature. The board game box can pop up and award you some bonuses, all the while there are little goings-on at each side of the actual board you are playing on, bringing it even more to life.
If you are a fan of the original movie, you will love the jungle vibe in this game. Even better is that some of them are randomly activated, so you don't have to worry about landing a specific combo of symbols!
It's all going on in the Jumanji slot, which is why we always have a ball playing it. The tense background jungle music is just enough to keep you on your toes while you spin your way around the board.
Need further confirmation that this classifies as a top video slot? Play it yourself at Temple Slots, Kerching, Prospect Hall or O'Reels.
RTP: 96.33%
Wheel of Fortune On Tour
Imagine the Wheel of Fortune game show, take it on a Winnebago tour, throw in a digital slot machine, and you might be close to imagining the premise of this top game.
Buckle up, because you're in for one heck of a road trip. You're the lead character in Wheel of Fortune On Tour, playing through the windscreen of the tour truck. Your gas meter is at the bottom left of the windscreen, and every time you land a bright yellow bonus bus symbol, it will add fuel to the meter.
The fuller the meter gets, the more checkpoints you can check off on your tour map. Between the gas meter and the game, you may even see a tour bus randomly drive over your reels distributing Wilds.
It is a lively game with a rock and roll backing track, but you can also expect a happy honk of the horn when you land a winning payline. The 'On Tour' bonus has six levels which you can progress through in this adventure of a slot game.
We love it, and with reels adorned with landmarks of 'Murica and all its beauty, who wouldn't?
Play at Betfred Casino.
RTP: 96.6%
Narcos
Does the name 'Pablo Escobar' ring any bells? You may recall him and his cronies from Medellin on the hit Netflix series. If not, we're headed to 1970s Columbia with Narcos. There are some dodgy goings-on and the cops are about to catch the bad guys.
No matter whose side you're on, you can't deny that Narcos is one of the most successful video slots from NetEnt. We are in awe at the graphics.
Familiar Columbian characters from the tv series are on the reels while you spin. Look out for the 3D symbols bursting through your screen in the drive-by as well as the locked-up feature, free spins and more.
It is all going on in Narcos, so if you like lots of variety amongst features and high energy, we would highly recommend a spin on one of the best NetEnt slots we have ever seen.
Play Narcos at Temple Slots, Kerching, Jackpot Jones or Prospect Hall.
RTP: 96.23%
Vikings
How does 243 to 78,125 paylines sound? If that's not enough to warrant a spot amongst one of NetEnt's top video slots, let us further explain the Vikings slot.
We're heading back to old-school battle with the most modern graphics, it almost feels like you're there. These Norse warriors have proved to be very popular, having shaken off the glamour of modern slots and shown true grit.
While graphics aren't the be-all and end-all, we expect the best from NetEnt, and we've got it.
Look out for Viking features including raid spins, a shield wall and the hotspot bonus amongst the Viking characters who spin with the reels.
From choppy waters to fiery battle remnants, we get a real feel for the Viking life, and with 7 reels instead of the usual 5, there is scope to see more of what is going on.
Play Vikings at Kerching, Temple Slots, O'Reels, Prospect Hall or Jackpot Jones.
RTP: 96.5%
What Do You Think?
Well, there you have it. These are our favourite five of the top video slots, and now it's up to you to see if you agree.
Have a spin on whichever you think sounds the best, and you can decide whether it's top-five worthy in your eyes – we're sure they all will be!
Want to see more of our best picks? Take a look at our Top Five NetEnt games  or some of our favourite Asian-inspired slots.