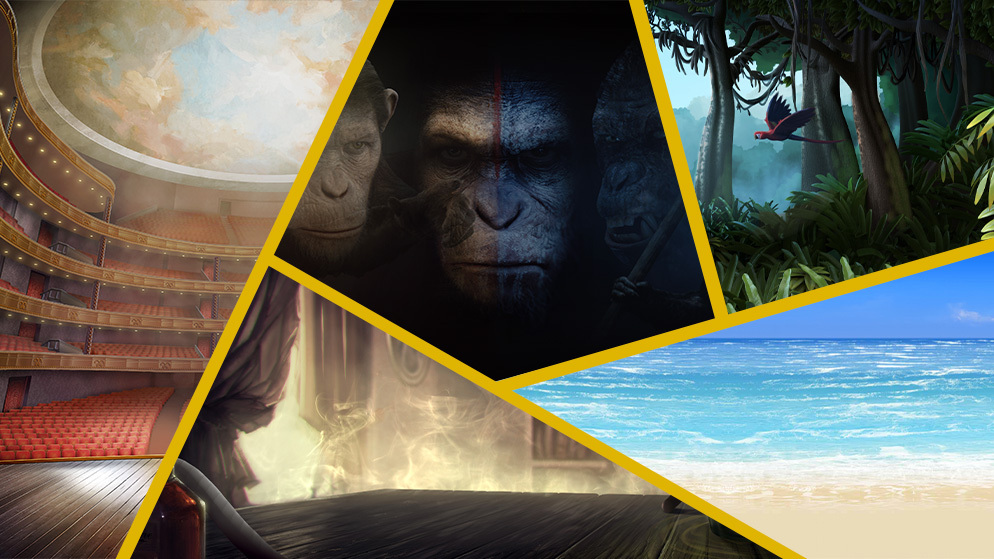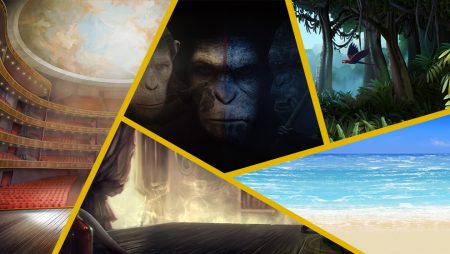 From the big screen to your personal screen, we present to you five of the best movie slots out there to try. Whether your favourite films are set on the beach, need adventure or give you a good old fright, you may find one that you recognise amongst our movie slots.
Planet of the Apes
First up is the fantastic Planet of the Apes. NetEnt has actually combined two of the films together for the ultimate movie slots experience.
The game opens up with footage from the films. Though reels look quite busy, once you get to grips with it, it doesn't seem so crazy.
If you've watched the films, you may recognise the characters on the reels; the left-hand side is Rise and the right is Dawn, as in, the film titles. These two halves can work together and independently to try and win you some prizes.
Look out for the Rise and Dawn bonuses, a Dual feature, wilds and free spins.
All in all, there is plenty going on in this movie slots hybrid and we're all for it.
Jumanji
In the film, the game sucks you into world of adventure. In this movie slots adaptation, you can rest assured you won't be getting transported anywhere. It is extremely likely, however, that you will have one heck of an adventure on your hands.
Jumanji is one of the greatest movie slots to have been created. From the craziness on the reels to the brilliant bonuses, there is lots about the Jumanji slot to make you smile. Again, NetEnt has surpassed all expectations, making this a video slot which could probably pass for a film in itself, the graphics are that good.
This movie slots' features are plentiful. From monkey mayhem to wild stampedes, sticky vines and monsoon wilds, Jumanji promises to be a lively game.
It wouldn't be a real homage to the original without a board game in the mix, too. Fear not, Jumanji fans, your movie slots prayers have been answered. The board game bonus brings free spins galore, coin wins and extra rolls on the dice.
Fancy a spin? Play it at Kerching.
The Invisible Man
How about a quest for world domination with The Invisible Man? What started as a novel by H G Wells was then turned into a Hollywood film, and finally, it has entered the world of movie slots.
It's a dark and ominous theme with this slot, featuring original characters on the reels as the scientist, Dr. Griffin, perfects his potion to become – you guessed it – the Invisible Man.
With all kinds of sci-fi quirks, this is a great slot. Special features include walking wilds. Plus, there are two different free spins features; each can be triggered by filling up the corresponding meter above the reels. You could either trigger the Police Spins, or Griffin's Rage. Which do you think is the scariest?
Give it a whirl at Kerching or Temple Slots – your call!
Baywatch
Two words. Red swimsuit. Oh yes, it's Baywatch! While you may remember this as the TV show, and the characters we see are the originals, there was also a Baywatch film so we have let it take pride of place here.
The graphics in this TV and movie slots game are actually quite funny. They look like the faces have been superimposed onto the cartoon bodies.
We've got Mitch, aka The Hoff, and Pamela Anderson as CJ as well as Cody and Caroline on the reels, too. You'll get used to the way they look eventually.
How about four bonus features to make waves with your gameplay? There are tidal waves, free spins, symbol replacements and a teamwork feature to look forward to on this sunny beach.
Read more on Baywatch here and play it at Kerching.
The Phantom's Curse
A movie slot which was made in collaboration with Universal Studios is bound to be graphically amazing. The Phantom's Curse does not disappoint.
NetEnt has brought the Phantom of the Opera to the reels in this movie slots crossover. Can you hit the high notes with the showstopping bonus features in this top-quality video slot?
You've got the Phantom himself and Christine who you may recall from the film or the show. In addition, there are wilds, free spins, a masked phantom re-spin and even a pick & click game!
There is plenty going on to keep you occupied in this game.
Fancy taking centre-stage with this? Play it at Temple Slots.
Five of the Best Movie Slots
You've got plenty to choose from in this collection of film-inspired slot games. The best thing is when you have seen the film, and you see all of the similarities which make you feel so much more involved in the game. Maybe that's just us, but why don't you try some of them for yourself?
If you're not sure which casino you would like to play with, why not check out the different welcome offers which come with each of them?
Enjoy!