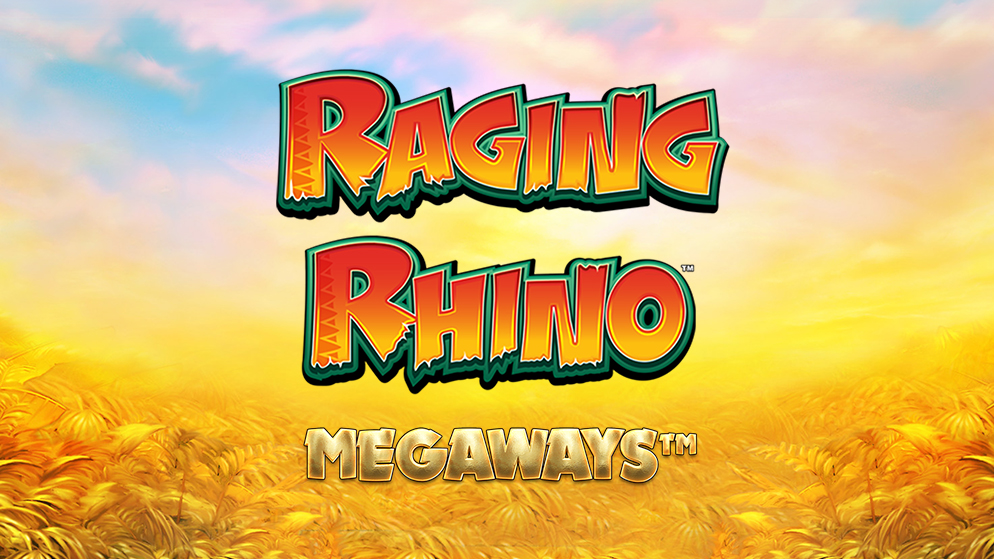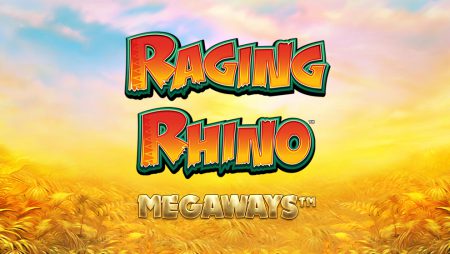 Raging Rhino slots is an African-themed slot game, developed by Scientific Gaming. There are 6 reels with 4 rows, giving you 4,096 ways to win, with bets starting from just £0.40. You can unlock Wild features and free spins which can be re-triggered throughout this casino game.
Embark on your own mini safari in this wild slot. In a welcome twist, the ways of winning in Raging Rhino slots may differ from what you are used to. Let us fill you in.
Graphics
Laid out upon a glowing sunrise in the African wild, our green reels present a mixture of images. The quality of the animals depicted in the images looks relatively realistic, but there is an almost icy-looking glow on the fade out of the animals' faces. The only symbol which looks as if it could have been a snapshot from the wild is our protagonist, the Rhino.
The 'Raging Rhino' looks as though the sun is glaring down on it, highlighting its horns and ears. His face is also the only one which appears to 'pop out' of the reels, spilling onto the positions above and below.
One feature which does look great on the reels is the diamond. We can see all of the layers within it, we'd love to just reach in and grab it for ourselves! Alas, we will have to settle with the hope of landing a group of them on the reels.
How to Play on the African Plains
The green bar beneath the reels houses all you need in order to get started in the Raging Rhino slot. With 4,096 ways to win, it would get too complicated to bet on every single way individually. Instead, you have the choice of the bet value and the multipliers.
It costs 40 cents to play all possible winning ways as a minimum. If you wish to add more weight to each of the paylines, you can click the + and – buttons underneath reel 3. This will multiply the £0.40 initial bet by whichever number you choose. As you change your bet value, the payouts on the paytable will change, in conjunction with the multipliers.
You can also click on the little yellow arrow above the total bet box and directly click on the total bet you wish to stake. Do whatever is easiest for you. When you're all set, click the spin button on the far right.
Winning with the Wildlife
What's different with how you win in the Raging Rhino slot game is how you align the symbols.
Basically, all you need to do is to land the same symbols on each of the six reels from left to right. Land two or more of the main symbols in play, or three of the lower value icons, to win.
The Raging Rhino is the highest-paying symbol in standard play, and for landing it across all 6 reels, you could get 7.5 times your bet value.
The Gorilla and Cheetah are of equal value and landing the same symbol across all reels could pay out up to 6.25 times your total stake.
Landing the maximum six of the Alligators or the Hawk from left to right can pay out up to five times your bet.
As usual, the card values are of a lower value, but they still pay out quite a decent amount! The Ace and King offer up to 3.75 times your bet. The Queen and Jack pay out a maximum of 3.125 times your bet, and the 10 and 9 can award you up to 2.5 times your bet value.
Are There any Bonus Features?
As you would expect, this slot has the key features needed to boost your chances of winning!
Wild
The tree symbol against the sunset is the Wild symbol. It can substitute for all of the standard symbols in play to help create and extend winning landings. You may also be able to benefit from a multiplier with Wild wins, helping to build up those prizes.
Free Spins
A very sparkly diamond symbol could be your gateway to some free spins. Landing three or more of the Scatter symbols can award you with between 8 and 50 free spins! During the free spins feature, there is a possibility that you could land another bunch of Scatter symbols, and in turn, receive up to another 50 free spins.
What's more?! There is a Bonus Guarantee with your free spins, meaning that you will never walk away with less than 10 times your bet from a free spins round. If your spins themselves don't work in your favour, the game will make up the difference. Not bad for a mini safari, huh?
The Real Downlow on the Rhino
A staggering 4,096 ways to win makes Raging Rhino slots an appealing one. The bonus guarantee also jumps out as a big benefit, with a guaranteed return on the free spins. That does, however, depend if you can trigger the free spins initially.
For lovers of wildlife, this game, and its extra reel, may be just what you're looking for. With standard bonus features, there is nothing too complicated to get your head around before you start spinning.
It's got a nice background, good visuals and promising features, but if we're honest, we've not yet seen much rage from the Rhino when we've played. So, if you're looking for an easy game, you're settled. If, however, you're looking for a stampede, you may have to look elsewhere.
Raging Rhino FAQ
Where can I play?
You can play Raging Rhino at Kerching.
What is the RTP?
The Return to Player (RTP) value of the Raging Rhino slot is 95.91%. It is a slot game with high variance, which means that you might have to play for a while before you see the rewards. This may explain why we've not witnessed any Rhino rage yet.
What else can I try?
In keeping with the animal theme, you may want to give Siberian Storm a spin. It has an unusual layout and easy-to-grasp bonus features, set on a wintry landscape.
What about keeping some animals in your game, but going for something completely different? There's Cats and Cash, the game show run by, you guessed it, cats. You're welcome.